Greetings from the Head of Department

Greetings from
the Head of Department
Greetings from the Head of Department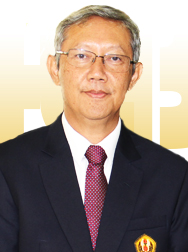 Assalamua'alaikum wr. wb
Wishing you good health and happiness,
To objectify the excellence of the undergraduate education program management and gain recognition from national and international levels, the Undergraduate Economics Program continuously improves its relevance and innovation. Our program collaborates various contemporary learning approaches, techniques, and methods according to users' requirements. We constantly enhance our national and international partners and actively strengthen our learning processes following the learning outcomes and outcome-based curriculum.
The atmosphere to study is very conducive with the support from our exceptional lecturers to prepare students with knowledge and skills in economics. Graduates of the Undergraduate Program in Economics can continue their education to Master level, work in institutions or private sector, both as public policy analysts, business and market research analysts, as well as finance and banking sector analysts.
Alternative learning activities are available to expose students to the international experience and to support the practice of Merdeka Belajar Kampus Merdeka. The programs are designed to encourage students' cognitive and soft skills development.
Best regards to our current and future students.
Prof. Dr. Nury Effendi, SE., MA
Greetings from the Head of Department